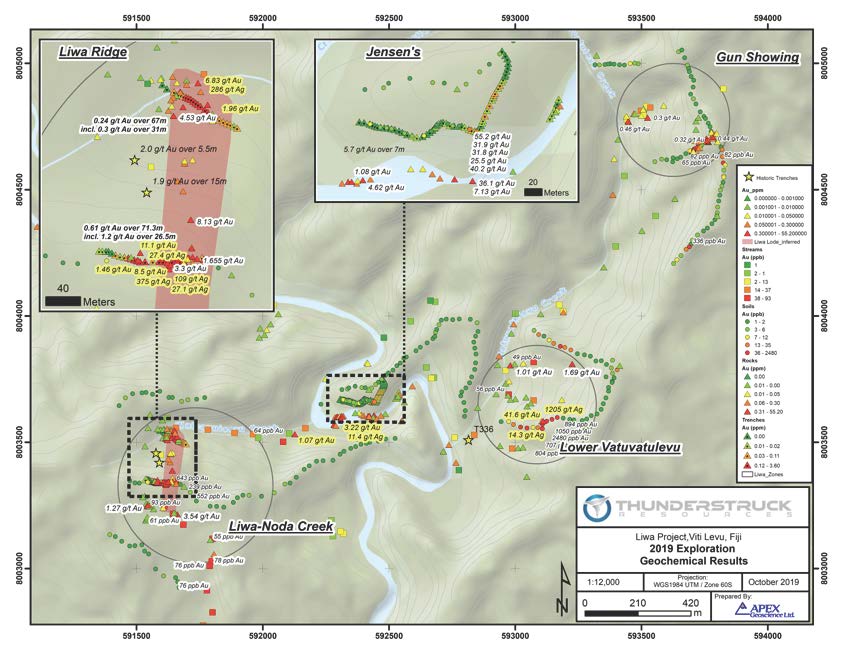 The Technical content of this page has been reviewed and approved by Kristopher Raffle, P.Geo. APEX Geoscience Ltd., the Technical Advisor to the Company and a Qualified Person as defined by National Instrument 43-101.
The Liwa Creek gold prospect is located in the southern portion of SPL 1425. Amoco Minerals discovered a float sample in the Liwa Creek which assayed 8.4 g/t Au in the 1970's. Geopacific Limited (Geopacific) in the 1980's discovered the source of the Liwa Creek float sample 500m upstream to the west. The surface expression was a 90-100 metre wide zone of altered volcanic rock with a strike length of over 300 metres. Trenching by Geopacific (1989) returned intersections including 15m @ 1.9 g/t Au and 5.5m @ 2.0 g/t Au1,2.

More recent (2002-2004) exploration by previous operator Aljen Pacific Limited (Aljen) has resulted in the discovery of the following anomalous zones up to two kilometres away from the original discovery site at Liwa Creek:
An outcrop of galena-rich quartz veining where 11 rock grab samples returned assays ranging from 1.6 to 26.7 g/t Au, including anomalous Cu, Pb and Zn values (Jensen's Prospect located 1 km east of the Liwa Creek Prospect)
Pyritic quartz veins in basalt outcrop assaying 5.7 g/t Au over 7m, located 200 m west of Jensen's Prospect.
Anomalous rock float samples from Vatuvatulevu Creek drainage located 1 to 3 km northeast of the original Liwa Creek Prospect including: one sample returning 11 g/t Au and 110 g/t Ag; one sample returning 3.2 g/t Au and 16.7 g/t Ag; four samples ranging from 0.32 to 0.77 g/t Au; in addition to one outcrop sample returning 0.9 g/t Au and 94 g/t Ag (Siga's prospect).
Exploration at Liwa Creek is at an early stage; however Thunderstruck believes that geological and geochemical evidence indicates an epithermal Au-Ag environment with excellent potential for the discovery of additional mineralization.

1The relationship between trenched intervals and true width of mineralization is not known
2For full descriptions of mineralized intercepts see: Technical Report on Aljen (Pacific) Mineral Properties Viti Levu, Fiji, Prepared for Thunderstruck Resources Ltd., September 15, 2014