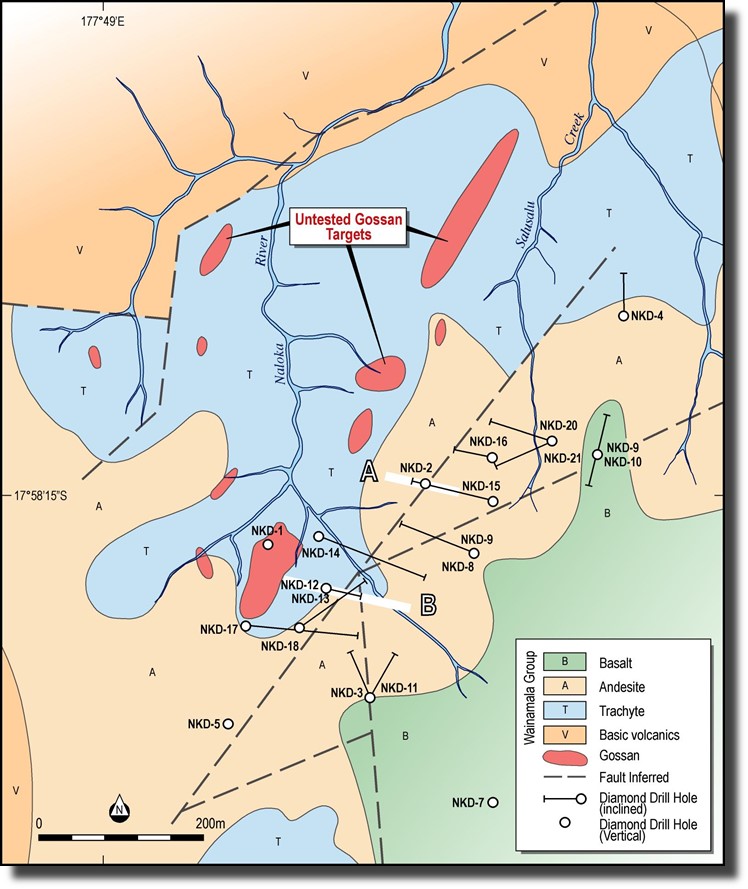 The Technical content of this page has been reviewed and approved by Kristopher Raffle, P.Geo. APEX Geoscience Ltd., the Technical Advisor to the Company and a Qualified Person as defined by National Instrument 43-101.
The Nakoro prospect is a zinc-copper volcanogenic massive sulphide (VMS) prospect located in the northern portion of SPL 1425. A diamond drilling program carried out by Australian Anglo American Ltd. (Anglo) during 1975 and 1977 intersected anomalous values including1,2:
12m @ 12.7% Zn, 0.3% Cu and 56 g/t Ag (NKD-2),
23.2m @ 5.1% Zn, 0.5% Cu and 22 g/t Ag (NKD-13
7.4m @ 7.2% Zn, 0.3% Cu and 54 g/t Ag (NKD-12).
Recent (2009-2012) shallow vertical "backpack" diamond drilling by previous operator Aljen Pacific Limited has located a new near-surface copper-zinc rich zone with several anomalous drill intersections including1,2:
1.3m @ 3.3% Cu, 1.5% Zn and 37.6 g/t Ag from 0 to 1.3m (NKD-111)
1.6m @ 3.0% Cu, 10.9% Zn and 40.5 g/t Ag from 1 to 2.6m (NDK-123)
A distance of 200 m to the southwest, a float sample collected by Aljen assayed 21% Cu. Drilling and rock sampling by Aljen occurred within the interpreted footwall of the main Nakoro deposit. This suggests the potential for undiscovered zones of high grade copper mineralization below the known zinc-rich massive sulphide body.

Geophysical interpretative work carried out in 2012 indicated that the prospective horizon extends over 8 km.

1For full descriptions of mineralized intercepts see: Technical Report on Aljen (Pacific) Mineral Properties Viti Levu, Fiji, Prepared for Thunderstruck Resources Ltd., September 15, 2014
2True widths estimated at 80-100% of drilled interval
Selective surface grab samples of zinc rich nodules, (sphalerite-rich) assayed 2.6% copper, 27.5% zinc and 177 g/t silver.