(January 19, 2015) Thunderstruck Resources Ltd. (AWE: TSX-V) is pleased to announce that initial assay results from recent field work at the Nakoro prospect area in Viti Levu, Fiji, confirm the potential for high-grade copper mineralization, in addition to high-grade zinc and silver.
Results for the first 16 samples have been received, and include several highly anomalous results for copper, zinc and silver, including values of 19.3% copper ("Cu"), 11.3% copper, 25.6% zinc ("Zn"), 14.0% zinc, 1,026 grams/tonne silver (Ag g/t) and 498 g/t Ag g/t. Highlights of the sampling results are detailed in the table and map below.
"We're very encouraged by these results," stated Bryce Bradley, Thunderstruck's President and CEO. "It is clear that Nakoro offers not only the potential for zinc, but also the potential for high-grade copper mineralization. We look forward to testing the full significance of this copper mineralization with future drilling."
Assays are pending for samples from an additional 70 prospect pits also dug in the area, targeting both copper and zinc mineralization. The new assay information, together with past results, suggests that this copper mineralization has a lateral extent of at least 150 metres along strike and is open in all directions.
Nakoro is one of two zinc-copper projects in Fiji under option to Thunderstruck. Both the Nakoro and Wainaleka projects encompass zinc-copper discoveries revealed through drilling by Anglo American in the 1970s that Thunderstruck is now following up on through detailed, modern exploration methods.
Thunderstruck's Fijian property portfolio also includes porphyry copper and gold prospects, covering
178 km2 in granted licenses and 209 km2 in applications, totaling 387 km2 of exploration licenses. Thunderstruck's optioned area covers nearly 4% of the main island of Fiji.
The current exploration activities have been lodged with the Fijian Department of Natural Resources to fulfill license commitments.
Assay Results for 2014 Sampling, Nakoro Prospect, SPL 1425, Fiji
SAMPLE No.
SAMPLE TYPE
ROCK TYPE
ASSAY RESULTS
Cu %
Zn %
Ag g/t
NK 202
Rock float
Limonitic silicified rock with visible azurite and malachite
19.25
25.95
1026
NK 203
2.5 metre vertical

channel sample

Partly weathered

massive sulphide

1.89
17.51
54.1
NK 209
Rock float
Limonitic rock with

abundant malachite.

11.32
13.96
498
NK 266
3.5 metre horizontal

channel sample

Medium grey clay, silicified, pyritic, (weathered massive sulphide).
0.82
0.2
5.8
NK 278
0.75 metre horizontal channel sample
Medium grey clay, silicified, pyritic, (weathered massive sulphide). Visible secondary copper.
1.71
0.22
4.4
This current sampling program focused on potential copper areas interpreted in the recent NI43-101 Reportof September 15, 2014 (see: http://www.sedar.com/DisplayProfile.do?lang=EN&issuerType=03&issuerNo=00032751 and suggested by one Anglo American drill hole that intersected high copper values (NKD 16, 2.6m @ 1.7% Zn, 1.8% Cu from 98.5-101.1 metres).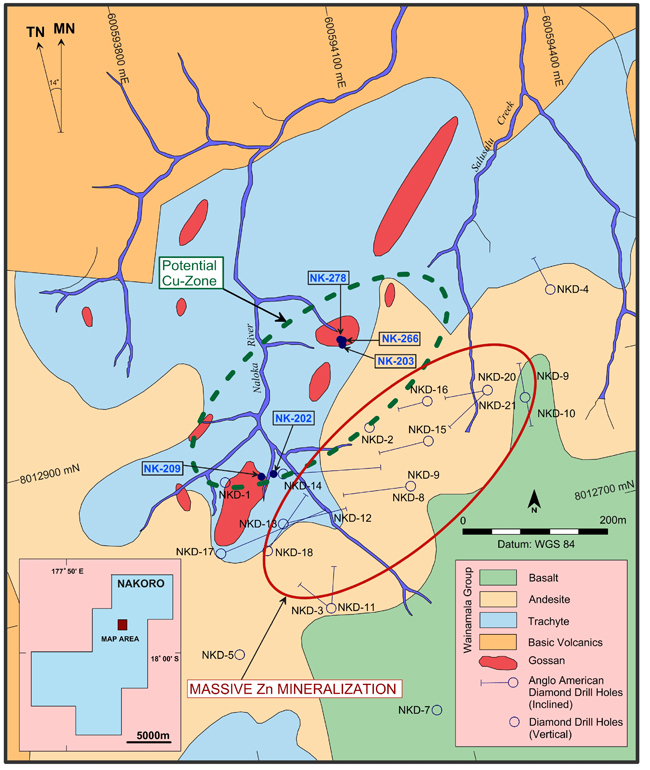 Some care must be taken with near surface sample assays, as copper, silver and zinc values can be significantly upgraded in the near surface weathering zone, as indicated by the presence of supergene copper minerals like malachite and azurite. However, there is no question the reported results are significant.
Field samples were bagged, sealed and shipped to Intertek Genalysis Laboratory Services (Genalysis), Perth, Australia, an independent, NATA accredited laboratory for copper, silver and zinc, arsenic and lead analysis. The laboratory crushed and pulverized the samples. A multi-acid digest was used including Hydrofluoric, Nitric, Perchloric and Hydrochloric acids (4AH/AA). The resultant digests were analyzed for copper, zinc, and lead by Flame Atomic Absorption Spectrometry. Silver and gold values were derived by Aqua-Regia digest followed by Graphite Furnace Atomic Absorption Spectrometry. Quality control testing of pulverizing efficiency is routinely conducted by Genalysis. International standards were inserted into sample batches by Genalysis and internal standards were used to monitor instrument drift. Blanks, splits and replicates were analysed with each batch of samples.
The information in this Press has been reviewed and approved by Michael L. Page, President of Exploration Services International, who is a Qualified Person as defined in National Instrument 43-101 Standards of Disclosure for Mineral Projects ("NI 43-101").
The Company also reports that subsequent to a review of results from an initial exploration program, it will allow its Eric Lake Property option agreement to lapse, in order to focus more attention and resources on its Fijian assets.
For additional information, please visit the website www.thunderstruck.ca or contact: Bryce Bradley,
President, Chief Executive Officer and Director
Telephone: (604) 349-8119
Email: This email address is being protected from spambots. You need JavaScript enabled to view it.
Neither the TSX Venture Exchange Inc. nor its Regulation Services Provider (as that term is defined in the policies of the TSX Venture Exchange) accepts responsibility for the adequacy or accuracy of this release.
This news release contains certain statements that may be deemed "forward-looking statements. Although Thunderstruck believes the expectations expressed in such forward-looking statements are based on reasonable assumptions, such statements are not guarantees of future performance and actual results may differ materially from those in forward looking statements. Specifically, there is no assurance (i) the option agreement will be closed on the terms outlined above, or at all; (ii) the private placement will be closed; (iii) TSX Venture Exchange approval will be received; (iv) Thunderstruck will exercise the option on the terms outlined above, or at all; or (v) the optioned properties will prove to contain any ore that can be mined economically. Forward looking statements are based on the beliefs, estimates and opinions of Thunderstruck's management on the date the statements are made. Except as required by law, Thunderstruck undertakes no obligation to update these forward-looking statements in the event that management's beliefs, estimates or opinions, or other factors, should change.
THIS PRESS RELEASE, REQUIRED BY APPLICABLE CANADIAN LAWS, IS NOT FOR DISTRIBUTION TO U.S. NEWS SERVICES OR FOR DISSEMINATION IN THE UNITED STATES, AND DOES NOT CONSTITUTE AN OFFER TO SELL OR A SOLICITATION OF AN OFFER TO SELL ANY OF THE SECURITIES DESCRIBED HEREIN IN THE UNITED STATES. THESE SECURITIES HAVE NOT BEEN, AND WILL NOT BE, REGISTERED UNDER THE UNITED STATES SECURITIES ACT OF 1933, AS AMENDED, OR ANY STATE SECURITIES LAWS, AND MAY NOT BE OFFERED OR SOLD IN THE UNITED STATES OR TO U.S. PERSONS UNLESS REGISTERED OR EXEMPT THEREFROM.