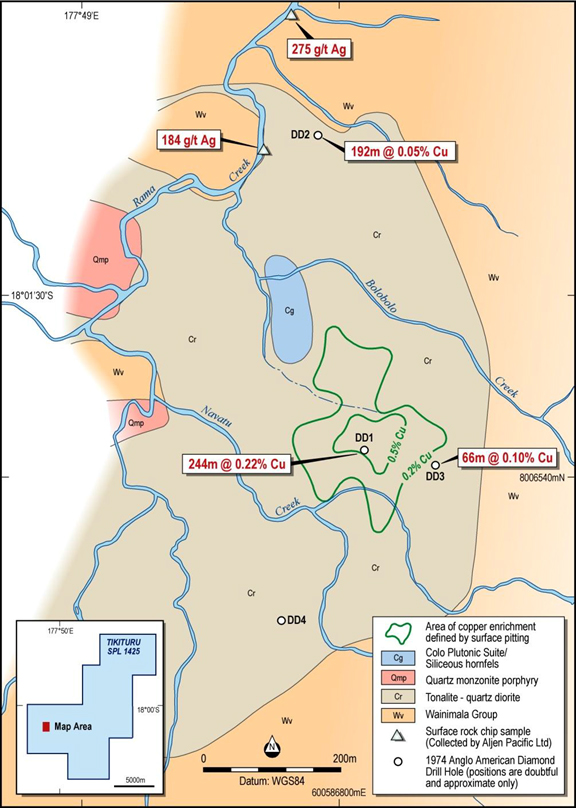 Rama Creek is the site of historic drilling where Anglo intercepted 244m @ 0.22% Cu & 0.16 g/t Au, indicating the potential for a large, copper-gold porphyry system similar to Newcrest's Namosi (2.2b tons @ 0.34% copper, 0.11g/t gold) project 20km to the east.

Barringer (1968-1974) carried out reconnaissance stream sediment sampling, geological mapping, geochemical and geophysical surveys that led to the discovery of the Rama Creek Prospect in 1971. After the discovery, Barringer entered into a joint venture agreement with Anglo American.

In 1975 Anglo drilled four holes for a total of 802m. The best hole with the highest interval was 72 m @ 0.38% Cu and 0.29 g/t gold. The entire intersection was 244 m @ 0.22% Cu and 0.16 g/t Au and ended in mineralization.

Southern Pacific (1974-1980) carried out an aerial photographic interpretation over Rama Creek. Their fieldwork included panning of stream sediment samples that outlined an area of anomalous gold over 8km² to the south.

Thunderstruck has amassed this data for use on its current exploration program.